1st European Adonthell Meeting
11.-13. August 2000, Karlsruhe, Germany
Adonthell has attracted team members from all across the globe. A fair portion live in Europe (well, after all, it was where the project originated from!) so the idea arose of organising a meeting for the european members. Finally a chance to see what the others look like! :P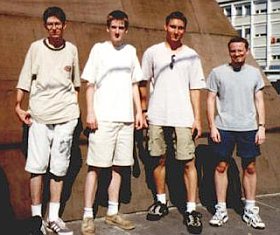 Kai, Manuel, James and Christophe
Over several IRC chats and emails it was finally decided where to meet up. You'd think it could be decided quickly, but that's not the case when everyone answers: "I don't care, where do you want to do it?"! Anyways, eventually we came up with Karlsruhe (a town in the south-west of Germany, incase you didn't know), which is where one of our programmers, Manuel, is studying.
So it came that we met up on Friday 11. August outside 'K7', the kebap shop next to 'Beate Uhse' the sex shop :), in Karlsruhe. 'We' being Manuel, Kai, Christophe and myself, James. Alex and Jol from France had also intended to come along but they couldn't make it (They have assured us that they'll be there next time though!). After the obligatory Doener Kebap we moved on and stroled through the beautiful town and its parks talking about Adonthell.

From left: Manuel, Kai and Christophe
Over the three days we discussed issues such as the Python implementation in Adonthell, some standards concerning the in-game graphics and a whole bunch of other stuff for the upcoming release 0.3. Naturally we also learnt a fair bit about each other and how we each got involved in or, in Kai's case, started Adonthell.
Highlights included watching the film 'Gladiator' (and walking into the wrong cinema beforehand by accident), generally soaking up the fantastic weather (I'll omit any jokes about people sitting at their PCs in darkened rooms and seeing the sun for the first time!) and last but not least Manuel's room with it's collection of computers. There's a photo of it here and a prize to the person who can spot all the penguins :P. Perhaps it was a good thing that we were only 4 - that way we all got to play Xblast at the same time!

Watch out for penguins!
I think we all agree that we had wonderful time that weekend. With a bit of luck our American counterparts will someday arrange a meeting for themselves (a world-wide one is too pricey for us... Sponsors for such a cause are always welcome though!.. RedHat? VA?). I look forward to the next meeting. Who knows, maybe you can be there too!
James Nash