3rd European Adonthell Meeting
30. July - 04. August 2002, Bad Godesberg, Germany
Tuesday, 30. July 2002 at Bonn train station, Germany. Blue sky, blinding sun, not a cloud in sight - perfect weather. I step out of my train thinking this is the beginning to yet another sunny Adonthell meeting. A few minutes later Kai arrives, then Ben (who's had to make a slight detour via Berlin the night before - don't ask!) and finally Alex. Time to move on to Bad Godesberg, a small town just outside Bonn where the meeting was to be held.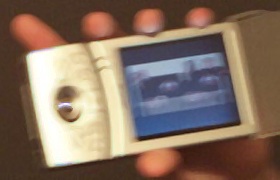 On the train there we chat, joke and gasp in awe at Alex's Zaurus PDA, completely oblivious to our surroundings. We arrive and the carriage doors open. Nils is waiting on the platform to pick us up and he's holding an umbrella. An umbrella? A glance at the sky reveals a thick soup of dark clouds and as we step out onto the platform there is a clap of thunder and the heavens open! So much for the Adonthell meetings' perfect track-record of fantastic weather!
We didn't let that get us down though. After all we now had an excuse to play Waste's Edge on the Zaurus while we waited! It didn't take long for the shower to stop and we quickly moved on to Ben's place. Once settled in, Kai's compilation CD of JT's Adonthell music was popped in the hifi and the discussions begun. Topic of the day: Adonthell version 0.4 - "Dun Barethsol".
| | |
| --- | --- |
| Alex, Kai & James | Nils & Ben |
Over the course of the meeting we covered virtually every aspect of our next release. The plot received some major overhauls. I can't give you any spoilers but let's just say it's got everything from yeti worshippers to witches in it and it's BIG! A big story needs a big world and, believe me, 0.4 will offer an area to explore that is easily 100 times bigger than 0.3 Redwyne Inn.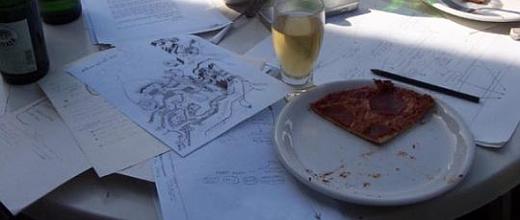 Plot'n Pizza
To make the exploring more fun you will be able to jump and climb over obstacles to find new, secret locations and interact with the world to a much greater extent than before. To this end the mapengine's internals will be completely overhauled (once again!) so that the terrain and all objects and characters on it will actually have true three dimensions. Don't panic though! The graphics will remain in the beautiful 2D style, it's just the internals that are 3D! As you can guess poor Alex walked away from the meeting with a big headache once again!
0.4 will also have a fighting system (at last you can go kill monsters instead of just chatting to people!) and a proper inventory. Many other details and ideas were discussed too. All in all this was probably the most productive meeting so far!
Nils & Alex practising for "Adonthell - the Musical" ;)
Of course we didn't only work! Last year South Park's "Unclefucker" song was the source of much amusement, this year it was Ali G's escapades in "Ali G in da house" and ballet dancing to Lady Silverhair's music (well, sort of). Obviously the food couldn't compare with Alex's mum's cuisine of last year but, considering that we made it ourselves, it was still very good! Long live "Reis mit Scheiß"! Oh, and we mustn't forget the classic moment when Alex had jelly for the first time in his life :)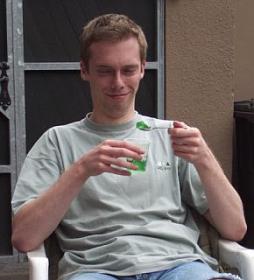 One evening we went out to Bonn for some drinks and to meet Isa who has made the illustrations in our library. With a bit of luck she might become a full-time Adonthell member some day (if you're reading this Isa, please sign up!). I had some good cocktails that night and Alex discovered Kiba juice which is also very tasty btw! Kai, Ben and Nils just stuck to old-fashioned beer (boring people :P).
On Saturday, 3. August the meeting was coming to an end. Nils and I had to leave that afternoon and the others left the following morning. Yet another great meeting all wrapped up. I can safely say we all had a great time and are full of enthusiasm for the next version of the game. I wonder where the next meeting will be ...
James Nash